Westchester County Airport Private Jet Charter Prices
Airport Hours and Location
Westchester County Airport is open 24 hours every day. It is located about three miles (4.8 km) northeast of downtown White Plains, New York.
Runways
Westchester County Airport has two asphalt runways. Runway 16/34 is 6,549 feet (1,996 m) long and the length of the runway 11/29 is 4,451 feet (1,357). The elevation of the airport is 439 feet (134 m) above mean sea level.
Airport Amenities
Westchester County Airport offers a wide range of top-notch airport amenities to its elite private jet travelers. These include vehicle-to-plane ramp access and luxurious ground transportation as well as conference rooms, private passenger lounges and hotel booking services.
Private Jet Charter to and from Westchester County Airport
Paramount Business Jets offers private jet charter flights and luxury airliner charters to and from Westchester County Airport.
Westchester County Airport in White Plains, N.Y., has a reputation of being one of the most convenient airports in the New York City area. Users find it easy to get in and out of the commercial airport located 33 miles north of the city.
Aerial View of Westchester County Airport. Picture Source: airport.westchestergov.com.
While five commercial airlines have scheduled ticketed-passenger flights at Westchester County Airport, more than 80 percent of the aviation operations there fall in the general aviation category, which includes aircraft ranging from single-engine, two-seat, privately owned recreational planes to large corporate jets.
It is the airport for the elite traveler who owns or has chartered a private jet to New York City or wants to rent a private jet out of the metropolitan area.
And, many business executives fly into Westchester County itself. Its proximity to New York has drawn many Fortune 500 companies to set up headquarters there, including MasterCard, PepsiCo, IBM, ITT Corporation, Jarden, Universal American and Regeneron.
What is the airport code for Westchester County Airport?
The ICAO code for Westchester County Airport is KHPN and its IATA code is HPN.
How did they come up with HPN for Westchester?
The origins of its IATA code are debated but it is believed to be an abbreviation of an abbreviation of White Plains, the city in which the airport is located.
It makes some sense if you know that IATA codes don't normally begin with W because radio stations call letters often begin with W and it would be confusing. So, if you take the W off WHP, which could have been an abbreviation for White Plains, and put an N at the end, you get HPN.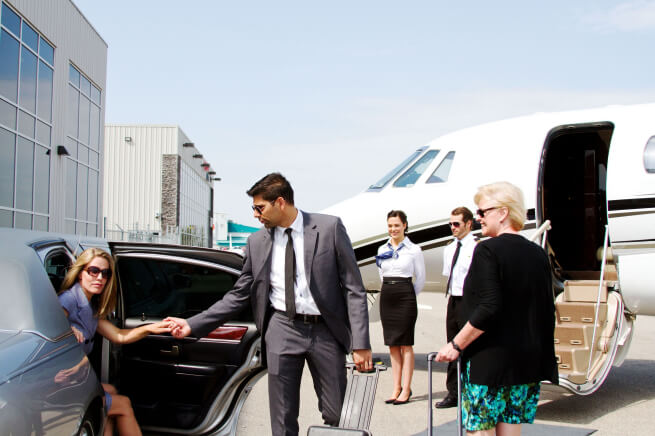 Airport Information
Westchester best way into NYC for charter jets
For most elite travelers coming to New York on a private jet, Teterboro seems the logical choice. Although it's in New Jersey, Teterboro is less than 10 miles from Manhattan while Westchester County is about 30. Teterboro also has longer runways than Westchester.
But, that's where the advantages stop, sophisticated – and experienced – charter jet pilots know. Teterboro may be closer to the city once you land but therein lies the rub – once you land.
Charter flights into and out of Teterboro are often delayed because it lives under Newark International's airspace umbrella and sometimes in-bound Teterboro flights descend into the same corridor as outbound Newark flights ascend. And that traffic problem doesn't even factor in air traffic from nearby LaGuardia and JFK airports.
A former air traffic controller at Teterboro said, "In my opinion, it is the most complex piece of airspace in the country. The amount of traffic that moves in and out, the mix of traffic and the confines and constraints that exist there, it is actually amazing."
And, then there's the time it takes to get into the city once you get off the plane. From Teterboro, there is one way to get into Manhattan – by car. And, to get into Manhattan, you have to cross the busiest bridge in the world, the George Washington Bridge.
From Westchester, you have several ways of getting into the city by car and you also have the Metro North rail station 10 minutes away, which gets you to Grand Central Station in a half hour.
Although Westchester County Airport lies in the midst of a highly congested air traffic area, the Federal Aviation Administration some 10 years ago redesigned the airspace over it to reduce congestion and delays at Westchester (HPN), LaGuardia (LGA), John F. Kennedy International (JFK), Newark Liberty International (EWR), Teterboro (TEB) and Philadelphia International Airport (PHL) and make it easier for air traffic controllers.
About Westchester County and its airport
Westchester County, which covers 500 square miles, lies between New York City and Putnam County. Its western border is the Hudson River and its eastern border Long Island Sound and Fairfield County, Connecticut.
Westchester County ranks second in the state after New York County for median income per person. It also has one of the highest property tax rates in the United States.
Westchester County Airport, or, as it is often called, White Plains Airport, is one of the busiest business aviation airports in the United States. It serves suburban Westchester County, New York and Fairfield County, Connecticut.
It offers services to all sorts of aircraft – commercial, business and private aviation – but most planes landing there are general aviation aircraft.
In 2015, Westchester County Airport traffic was about 15 percent commercial, 60 percent corporate, and 25 percent light general aviation (weighing less than 12,500 pounds). Corporate aviation includes heavier jets such as charter jets, air ambulances and medical flights, and government aircraft.
Westchester County encourages the use of light general aviation – many are privately owned propeller planes – at the airport to keep a diverse aviation community. Two of the three fixed base operators at the airport specialize in light general aviation services.
To meet demands of the wealthy communities surrounding Westchester County Airport, the airport has been conscientious about managing the environmental impacts – like noise – it creates.
Westchester is the second richest county in the state after New York County, in which Manhattan is located.
Westchester County Airport history
Westchester County Airport was originally built on land by the county and is still owned by the county. Its construction began during World War II but it was quickly appropriated to the United States Army. After it was deemed no longer necessary as an airport for fighter planes to defend New York City, it was returned to the county for civilian use.
The airport opened in February 1945. Three years later, the first commercial flight took off from the airport.
From 1952 to 1983, the United States Air National Guard had a base at the airport for reserve training and transportation missions.
FBOs at OAK
There are three fixed base operators at Westchester County Airport.
Ross Aviation East and Signature Flight Support offer full services for aircraft of all sizes.
Million Air and Ross Aviation West specialize in services for light aircraft (up to 12,500 lbs.) and provide limited ramp services for aircraft up to 50,000 pounds
Ross Aviation has two operations at Westchester County. Ross Aviation East offers full service to aircraft of all sizes and Ross Aviation West also specializes in services for light general aviation planes (including the sale of nav gas). It handles general aviation aircraft up to a Boeing Business Jet at East; aircraft up to 50,000 MGTOW at West.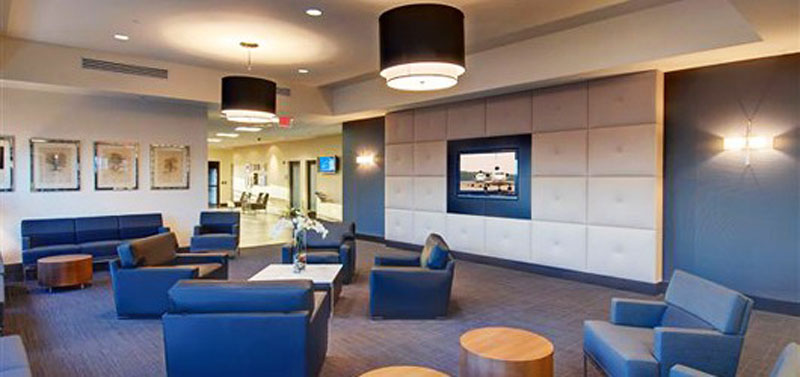 Ross Aviation FBO. Picture Source.
Its amenities and services include:
Agriculture clearance
Aircraft detailing
Concierge services
Courtesy transportation
De-icing
Dishwasher service
Executive conference room
Flight planning center
Gourmet catering
Ground handling
Heated hangar
Linen service
On-site customs and immigration clearance
On-site rental cars
Oxygen/nitrogen
Passenger lobby
Pilot lounge
Ramp-side vehicle access
Secure parking
Shuttle service
Snooze room
Tow from customs
Valet services
VIP lounge (east only)
Wi-Fi
Signature Flight Support has two operations at Westchester County Airport, one at the east terminal and one at the west. They have the same director and seem to offer the same services.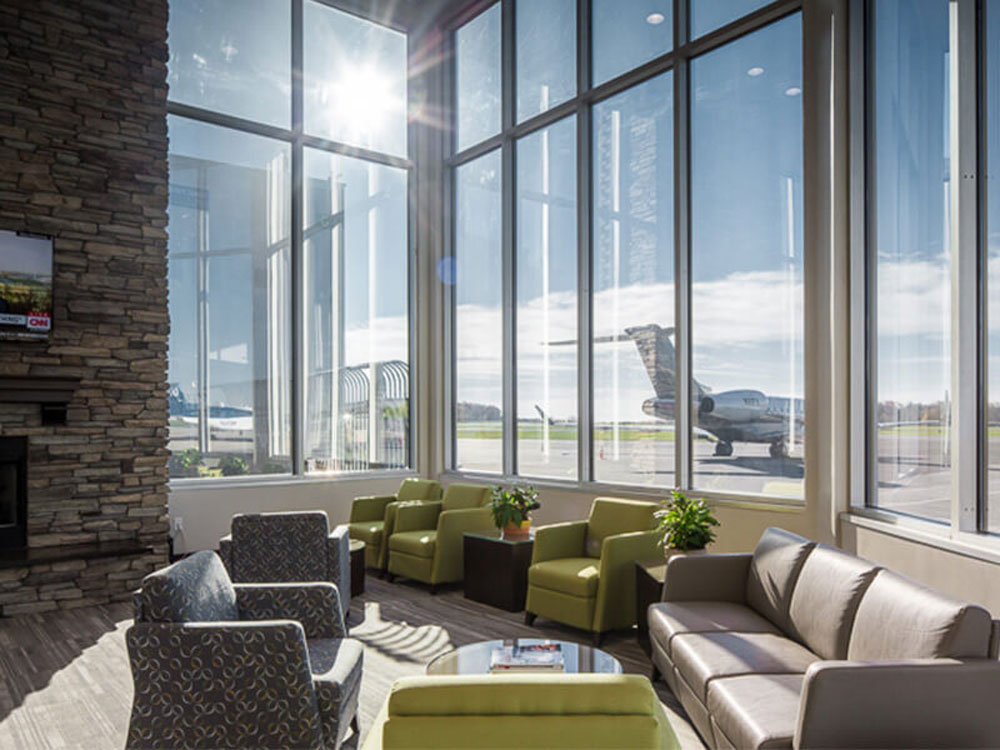 Signature Flight Support. Picture Source.
Services and amenities include:
24-hour surveillance
Airstairs
Baggage carts
Belt loader
Business center
Concierge services
Conference rooms
Courtesy crew cars
Crew room
Customs and immigration on airport
De-icing/anti-ice
Fireplace
Golf cart service
Heated hangar
Helicopter handling
Limousine service
Overnight hangar
Passenger lounge
Pet friendly
Ramp side vehicle access
Scissor lift
Secured vehicle parking
Sports charter handling
Transient hangar space
Valet
VIP/heads of state handling
Wheelchairs
Wi-Fi
Million Air White Plains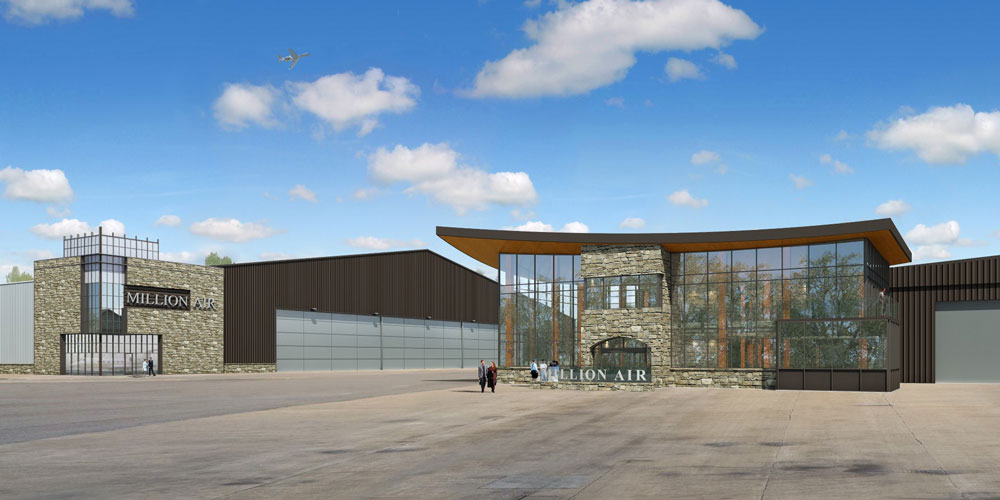 Million Air FBO. Picture Source.
Million Air White Plains is a full-service FBO in the midst of building a new state-of-the-art FBO facility at Westchester County Airport, which will be open in early 2019.
It's a million-dollar project designed to provide quick service and elegant amenities for business and leisure private jet travelers.
It uses one word – luxury – to describe its services. It says it specializes "in providing a luxury experience for your flight crews and passengers. In addition to the new FBO, we will have a few new hangar options for you to call home."
Maintenance services are available.
Million Air has an interesting backstory. It was founded as a single FBO in 1984 by the Mary Kay Cosmetics family in Dallas, Texas. Its original goal was to be a luxury FBO for Mary Kay customers and sales representatives. It wanted its FBO to mirror the elegance of its corporate jet. The company decided it was necessary to keep its customers from stepping out of elegance into quite unglamorous facilities where they tripped over flight school students and mechanics.
Mary Kay decided to create an "aviation oasis" at Million Air Dallas.
The "Million Air Experience" got national attention and Mary Kay soon launched its brand in airports in the United States, Canada and the Caribbean.
Million Air continues to expand on a global level with the ability to, license, own and operate facilities in most countries. And you don't have to be a Mary Kay representative to use it.
Did you know?
In the 2000 movie, "Meet the Parents," Westchester County Airport plays the part of both Chicago's O'Hare, from which Greg Focker (Ben Stiller) and Pam Byrnes (Teri Polo) depart, and New York's La Guardia, where they arrive for the visit to her parents.
Now, that's acting versatility.
FBOs at Westchester County Airport, KHPN, HPN
Traveling frequently from Westchester County Airport?
If you fly frequently and you want have access to the finest private jets at any time, our jet card program is perfect for you. Our Jet Card allows you to fly anywhere, at any time and with any aircraft that fits your needs. Contact us for more information or read more about our Jet Card program.
Frequently Asked Questions
Do I have to stop for customs when I fly on a private jet?

Passengers on all international private charter flights will have to stop at customs. In certain countries, you may have to go through customs at a specific port of entry; for example, you must stop in Tahiti to perform customs checks en route to Bora Bora. You'll also need to stop at the first port of entry when entering the U.S. from Mexico.

How much rest does the crew need before they can depart again?

Crew members are required to have a 10-hour rest period within each 24-hour cycle. The maximum duty day is 14 hours and must be followed by a 10-hour rest period at their hotel. When scheduling a flight, operators usually account for 12 hours of rest instead of 10. These extra two hours allow the crew time to get to their hotel, rest for the required time, and return to the airport.

How long does a fuel stop for a private jet flight take?

The average fuel stop takes 45–60 minutes. To speed up fuel stops, the operator, or pilots may call ahead, so a fuel truck is waiting for the aircraft on arrival. For smaller jets, a fuel stop can take as little as 30 minutes.

Will my private jet charter use the same airport as a commercial airline?

No. When you charter a private jet, you generally fly into a private airport. However, you could access the same airports as a commercial airline if you request to do so or if there are no private airport options. However, using a large mainstream airport like Los Angeles International or London Heathrow is often a bad choice for private jets, as flying to a smaller regional private airport is much faster and often makes for a more luxurious experience.

Is the age of an aircraft a safety factor?

Aircraft age is not a safety factor. However, if the aircraft is older and hasn't been refurbished properly, it may cause flyers some inconvenience, such as overheating, faulty air conditioning, or faulty plumbing in the lavatory.

How much luggage am I allowed to bring on a private jet?

As a rule of thumb, each seat on a light or midsize jet equates to one passenger and one item of luggage. Each item of luggage is considered to be the standard 23 kilograms, or about 50 lbs. Large jets are designed for long-range trips, which typically involve longer stays, so you can carry more than one item of luggage per person.

Are there aircraft that are wheelchair accessible?

There are many aircraft that are wheelchair accessible. Most of them are large jets or above and have a straight aisle. If the jet has a zigzag aisle – like the Falcon 900 – it will be difficult to maneuver the wheelchair onboard the aircraft. You'll also need the right type of wheelchair; many motorized wheelchairs won't fit and can't be collapsed. If this is the case, you'll need a smaller, temporary wheelchair. Some aircraft operators have smaller wheelchairs that can be used. Please speak with your Paramount private jet expert to review your aircraft options.

Can I fly with large sums of cash?

Yes, you can. This is a common occurrence for many private jet clients. You can fly with up to $5 million in cash as long as you declare that cash when coming through customs. For domestic trips, there's no limit and no need to declare it.

Which private jets come with flight attendants?

In the United States, large jets and above are required to have flight attendants onboard; in Europe, flight attendants are used on midsize jets and above. Flight attendants require their own seats. Larger jets and above have a jump seat near the cockpit for the flight attendant to use, meaning the attendant generally stays out of the cabin.

Which airports offer ramp access, allowing the client to drive their car right up to their private jet?

Private jet clients can often have a limo drive them right up to the private jet, or even drive their own car to the plane. That said, different airports have different policies, and some may not offer ramp access. Please speak with your Paramount Aviation Advisor to review your options for a given trip.

Do private jets come with Wi-Fi?

Many private jets do have Wi-Fi, and it's increasingly available free of charge on U.S. domestic flights. On international flights, prices range from $3.00-$8.50 USD per megabyte used. This means that opening up social media sites that are rich in images and videos could quickly cost you $20 – and downloading a feature-length movie could cost thousands!

When is on-demand private jet charter better than buying a block of hours?

Private jet charter can be a lot cheaper than buying a block of hours for a one-way flight, as you can access floating fleets or an empty leg to reduce the cost. With a block of hours, the price covers a round trip. If you only fly one-way, you are effectively paying double.

What is a carbon-neutral flight?

Every aircraft burns jet fuel and emits a certain amount of carbon dioxide (CO2) into the atmosphere. This can be offset via one of several carbon offset programs that allow private jet clients to purchase a certain number of carbon credits to offset the emissions from their flights. A carbon-neutral flight is one that offsets the carbon emissions it uses via a formal process.

Can I have a flexible departure time for my private jet flight?

Yes, it is possible to have a flexible departure when flying privately. Operators typically offer a 30-minute to two-hour window, but you can request a longer window as long as it doesn't interfere with the maximum crew duty day or their next scheduled flight. Please confirm with your Paramount Aviation Advisor at the time of booking your jet.

When should I hire a Boeing Business Jet?

Boeing Business Jets (BBJs) have unique amenities that extend far beyond sheer size and are often equipped with 1-2 bedrooms and 2-3 bathrooms (one more of those bathrooms may even offer stand-up showers.) These airliner-based executive aircraft also feature tall or 'stand-up' cabins that are also longer and wider than more typical corporate aircraft.

How soon can I have a private jet ready from the time I call in the request?

Generally speaking, with as little as 4 hours of notice. However, we have had wheels up in as little as 32 minutes from the time our client called us to book the flight and had them in the air. It depends on a few factors, such as how long it takes for the pilots to arrive at the airport (generally, there is a 2-hour call-out time for the pilots), and whether the aircraft is ready to go at the airport with no repositioning needed. Our Jet Card members enjoy faster booking since they have funds on account and can confirm a flight with a simple email.

Can I access my luggage while in flight?

On most private jets, you will be able to access your luggage during the flight. That's because luggage and passengers are situated on the same level. This is in contrast to commercial airlines, where checked luggage is stored in a cargo hold. On large private jets, luggage is often stored in a compartment behind the lavatory, which means easy access to your bags.

When are private jet charter landing and takeoff slots applicable?

A landing or takeoff slot is simply a small window of time in which your aircraft is scheduled to fly in or out of the airport. You will need a landing and takeoff slot if you fly to a high-density airport in the United States or one that is hosting a special event with a significant number of aircraft arriving and departing. If you're flying internationally, you will need a landing and takeoff slot for all major European cities. Please check with your Paramount Aviation Advisor at the time of booking for a specific route.

What kind of in-flight catering is available on a private jet?

Other than the standard snacks and drinks, you can order local cuisine options for your catering on board. In short, anything that doesn't need to be cooked can be ordered; hot food must be precooked and then warmed on board.

Can I bring pets with me on private jet flights?

Of course! Just let us know in advance. The majority of the operators and aircraft owners allow pets onboard. In some cases, a small cleaning fee may apply. That said, there are specific requirements that must be met when traveling with your pet, including making sure that all documentation and vaccination records for your pet(s) are correct and up-to-date. Dogs and cats must also be at least eight weeks old and weaned when traveling within the U.S.
Would you like our assistance?
24/7 customer service is there for you.
From the blog
Fly To Munich For The Octoberfest Beer Festival

Regarded as being the world's largest folk festival, Germany's Octoberfest attracts seven million visitors from around the world. Held in the Bavarian city of Munich, Germany, the Octoberfest can trace its origins back to the marriage of Crown Prince Ludwig and Princess Therese of Saxe-Hildburghausen on October 10, 1810. The citizens of Munich were invited to attend celebrations to mark the royal event in a meadow located outside the city's main gate.

Visit London And Attend An NFL Game In October

The NFL returns to London in 2023 with three adrenaline-fuelled regular season games to be played in October. Great for American ex-pats living in the United Kingdom and for British fans of American football, the games also present an opportunity for the team's American-based fans to visit and explore one of the world's most vibrant and exciting cities.