Services
Pet Travel by Private Jet
Traveling with your pet shouldn't be a traumatic or risky experience for your pet. Choose private jet charter to avoid risk and travel in comfort together with your furry friend.
Get a Charter Quote on Pet Travel by Private Jet Charter
Private Jet Charter with your Pet
Traveling with a pet doesn't have to be a traumatic or risky experience. In fact, flying by private jet reassures both you and your furry friend travel in comfort together. If you're planning to take your pet on the next trip, with Paramount Business Jets it will be a safe and easy endeavor.
Importantly, when you use a private jet charter, you can check on your companion's well-being and happiness throughout the flight. And you surely know that the comfort and peace of mind of knowing they're safe and sound right next to you is just priceless. Paramount Business Jets will help you with all the documentation and knowledge of pet travel guidelines, enabling you and your pet to reach the destination together, safely and happily.
Benefits of Private Jet Charter for Flying with Pets
You avoid the risks, stress, and inconvenience of flying commercially with your companions.
You fly with your pet in the cabin, which is significantly safer for them than being locked in a cargo hold and much more comfortable than being stowed under another passenger's seat.
Your pet can be of any size, while on commercial airlines. Size regulations are getting stricter and stricter, leaving large pet owners very little flexibility when traveling.
There's no maximum number of animals in the cabin per passenger, while any commercial air carrier allows a limited number of pets – usually it's one, and other animals must be stowed in the cargo hold.
You can travel any time of the year, unlike with many airlines who don't allow pets to fly in the cargo hold during warmer and colder months due to the increased risk and liability issues.
You're not affected by breed restrictions, which ban some breeds from flying.
You can give your pets full attention and monitor their well-being throughout the flight.
Legal Requirements for Pet Travel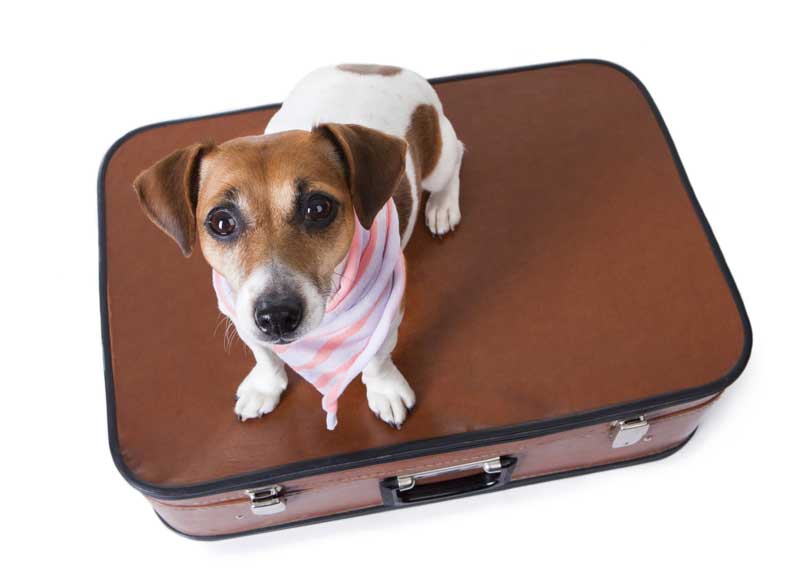 I'm packed. Let's go to my jet!
Internationally, countries have different guidelines regarding traveling with pets. However, as long as pet owners provide valid documentation for their pets, Paramount Business Jets will handle the rest. By working through the appropriate channels, we'll ensure a perfectly pet-friendly private jet charter.
Requirements for Pets Flying in the USA
Up-to-date rabies vaccinations are required when traveling through any part of the country.
Cats and dogs must be at least 8 weeks old.
Animals must be weaned.
Some states require health certificates from a veterinarian.
These are a few restrictions to keep in mind before getting on the aircraft with a pet. Remember that to ensure the ultimate safety and comfort of your pets during air travel, using a private charter is clearly the best option.
Choosing the Right Aircraft to Travel With Pets
Even in the case of a private jet charter, pets may get stressed at certain times, especially during take-off and landing. Therefore, you might want to choose a type of aircraft that will help them relax. The available space and cabin noise levels are particularly important factors, which usually make the aircraft pet-friendly.
The owners of large-breed dogs know that not all aircraft are suitable for flying with their pets. For example, aircraft with dropped center aisles may be uncomfortable for larger breeds, as they can only lie down in one direction down the aisle. When traveling with larger breeds, we recommend choosing an aircraft with a flat floor cabin. These planes provide big animals with the comfort of being able to lie down on their side and stretch out.
Private Jets with Flat Floor Cabins Suitable for Large Pets Include:
If you're flying with your pet, please contact us for more important tips on how to make them even more comfortable on the flight.
If you plan to make an international trip with your pet, requirements vary by country, and we can guide you throughout the process.
Speak with one of our Private Aviation Consultants at +1-877-727-2538 or send us an email anytime. You can also get a quick quote online for private pet travel charter flights to and from any destination in the world instantly.
Paramount Business Jets' Pet Charter Flights in the News: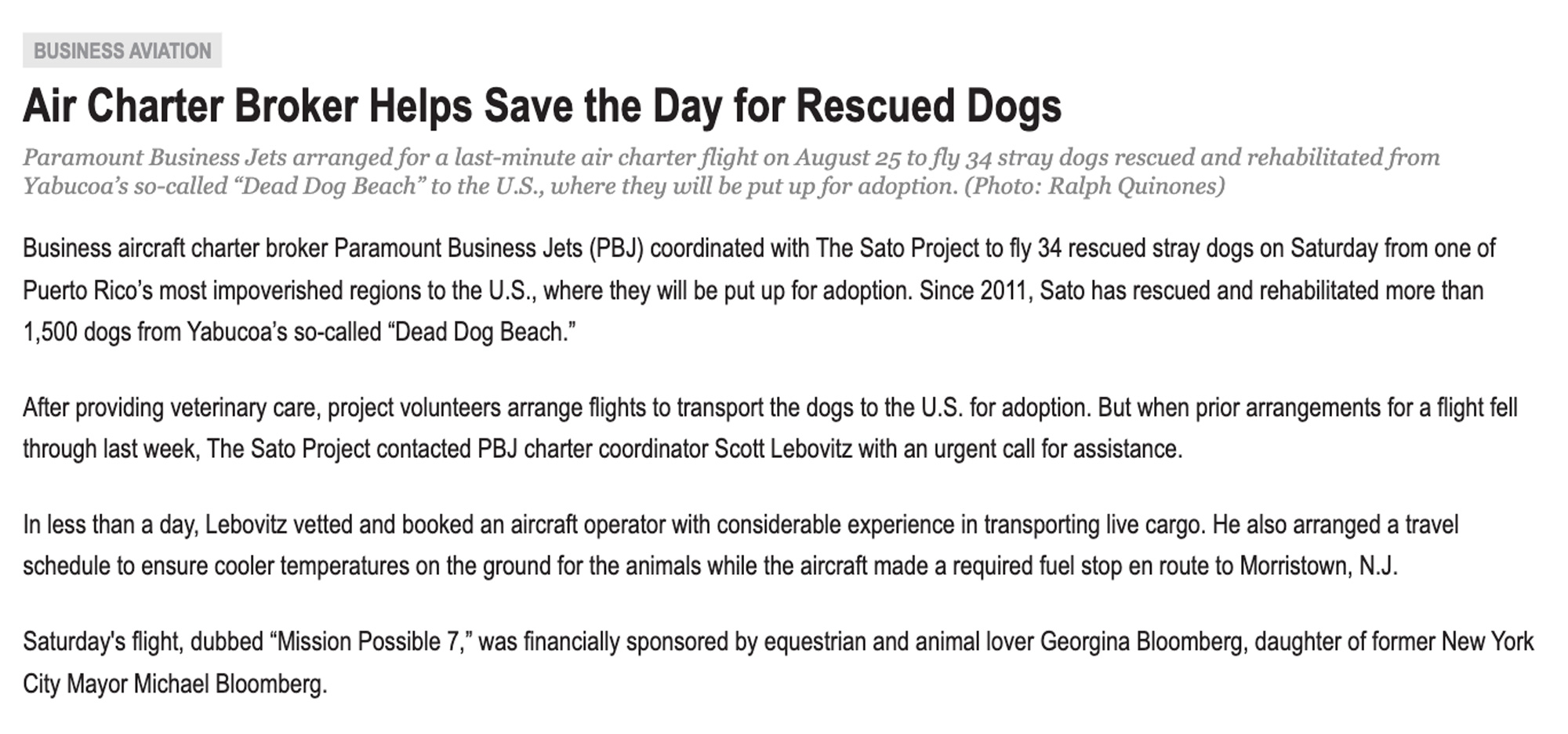 Would you like our assistance?
24/7 customer service is there for you
Discover the Most Travelled Private Jet Service Destinations