John Wayne Airport Private Jet Charter Prices
Airport Hours and Location
John Wayne Airport is open for all general aviation traffic, including private charter jets, from 7 a.m. to 11 p.m.. The airport is located in an unincorporated area of Orange County, about 6 miles (10 kilometers) south of Santa Ana, at 18601 Airport Way, Santa Ana, California 92707.
Runways
John Wayne Airport has two asphalt runways. The longest one is 5,700 feet (1,737 meters) long and 150 feet (45 meters) wide. The elevation of John Wayne Airport is 56 feet (17 meters).
Airport Amenities
The amenities at John Wayne Airport include a wide choice of shopping and dining venues, an arts and music program and exclusive lounges. Private jet charter flyers at the airport can also hop right from car to plane with vehicle-to-plane ramp access.
Private Jet Charter to and from John Wayne Airport
Paramount Business Jets offers private jet charter flights and luxury airliner charters to and from John Wayne Airport.
Jets taking off from John Wayne Airport in Orange County, California, don't fool around.
Nope. As soon as wheels leave the ground, the nose of the jet points toward the sky and it's in the clouds.
It's as if the ghost of John Wayne himself is in the cockpit echoing dialog from "The Cowboys."
"Well, here's my word," he said in the movie. "Get the hell off my spread right now."
While anything is possible in the land of movies, steep climbs are not done for theatrical reasons. They are done to abide by Orange County's strict noise abatement rules.
Or, as a flight attendant on a commercial airliner recently joked to passengers after takeoff, "Shhh. We're flying over rich people."
What is the airport code for John Wayne Airport?
The ICAO code for John Wayne Orange County Airport is KSNA and its IATA code is SNA. It is a global port of entry.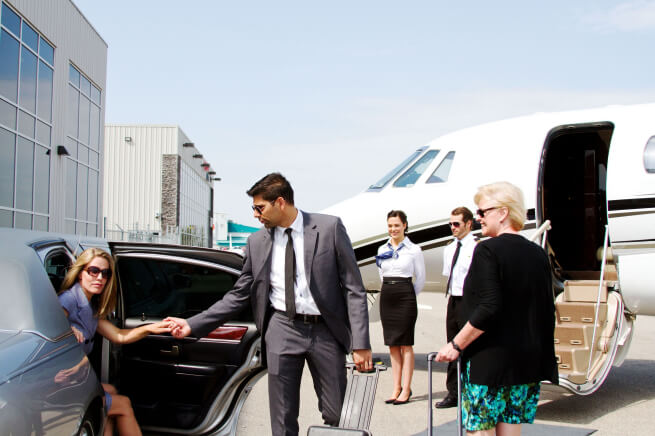 Airport Information
What's the proper name for SNA?
Originally called Orange County Airport, it was renamed in 1979 to honor John Wayne, who lived in neighboring Newport Beach and had died that year.
While many people refer to John Wayne Airport as Santa Ana, thanks in part to its IATA code of SNA, it's actually not in Santa Ana at all. In fact, it doesn't even touch Santa Ana. The entrance to the airport is in Irvine. It is bordered by Newport Beach to the south and Costa Mesa to the west. The airport also borders a small unincorporated area along the Corona del Mar Freeway.
A 9-foot bronze statue of the Duke, commissioned after the renaming, greets arriving passengers in the Thomas F. Riley terminal.
Charter a private jet at SNA
More private and chartered business jets than commercial airliners use John Wayne Airport, located about six miles from Newport Beach and some of the richest neighborhoods in Southern California. A recent study by nerdwallet.com found 15 of the 20 wealthiest large cities (population of more than 65,000) in the nation are in California and four of those are in Orange County: Newport Beach, Yorba Linda, Laguna Niguel and San Clemente. To accommodate these luxury jets, John Wayne Orange County Airport has several facilities specifically designed for general and corporate aviation. It is the home base for more than 450 general aviation aircraft.
John Wayne Airport is a great place to charter a private jets to other airports in the Los Angeles area, including Fullerton Municipal Airport, which is 18 miles away in Orange County. Commercial airports nearby are Bob Hope (Burbank) Airport (55 miles), Long Beach Airport (21 miles), Los Angeles International Airport (40 miles) and Ontario International Airport (44 miles).
Hire a private jet to SNA
Rent a private jet into John Wayne Airport to get to:
Disneyland – The magical kingdom in Anaheim to which Mickey and Minnie first opened their doors in 1955 is only 13 miles away from John Wayne Airport. (It's 33 miles from Los Angeles International.) The original theme park is now divided into eight sub-parks: Adventureland; Main Street, U.S.A.; Fantasyland, Tomorrowland, Mickey's Toontown, Frontierland, Critter Country and New Orleans Square.
The Resort at Pelican Hill – A world famous luxury resort that captures the essence of Italy in Southern California.
FBOs at SNA
John Wayne Airport's General Aviation Master Plan, which was adopted in the early 1990s, limits the number of fixed base operators to two.
Atlantic Aviation and ACI Jet are the current operators.
ACI Jet, a regional FBO that serves four airports in the greater Los Angeles area, was chosen by the county in 2017 to replace Signature Flight Support. Its short-term lease expires at the end of 2018.
The FBOs sell fuel, service private and business jets and their passengers and also lease space to flight training, charter jet and aircraft maintenance businesses.
ACI Jet Orange County is the newest FBO at John Wayne Airport. There are plenty of reasons to hire a private jet into ACI's general aviation terminal. Orange County is known for more than Disneyland and Knott's Berry Farm. It's also where you'll find beautiful beaches, almost perfect weather and award-winning restaurants.
ACI Jet's newly-renovated private FBO terminal allows passengers to go from parking to departure in just 15 minutes — in secure anonymity. And, JetSuiteX customers can valet their car and relax at ACI Jet's FBO while waiting for their flight.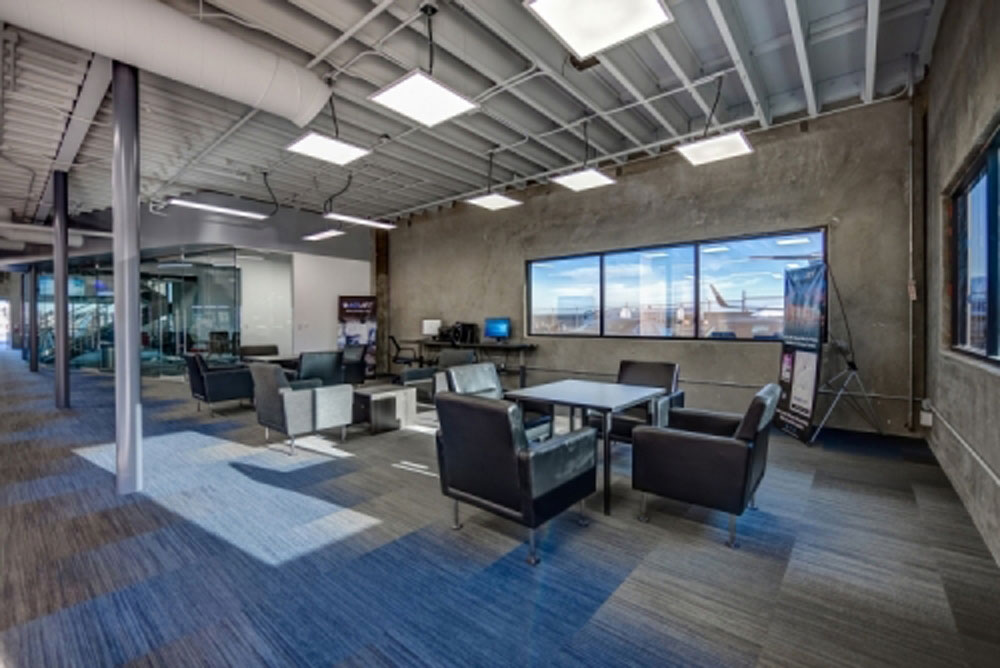 ACI Jet FBO. Picture Source.
ACI Jet's amenities include:
24-hour fuel
Catering
Concierge services
Belt loader
Secured vehicle parking
Aircraft maintenance
Hangar space
Oxygen and nitrogen service
Weather and flight planning
Wi-Fi
Crew Car
Conference room
Pilot lounge
Snooze room
Atlantic Aviation is the fixed base operator at more than 60 airports around the country, including Orange County. Atlantic SNA caters to business and vacation travelers across Southern California.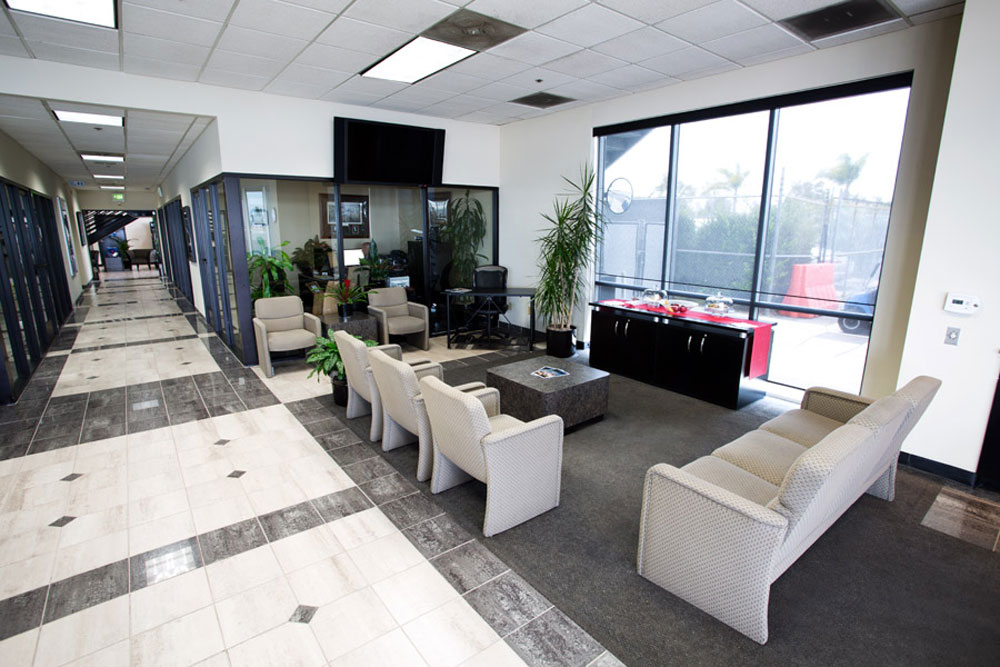 Atlantic Aviation FBO. Picture Source.
Amenities include:
On-site concierge, valet and baggage services
Crew cars
Fueling
Deicing
Executive terminals for passengers and crew
Hotel arrangements
Gourmet catering
Quick turns
Hangar space (up to Gulfstream G450)
Wi-Fi
Pilot's lounge, snooze room and showers
24-hour surveillance and security
DCA access gateway
Noise abatement at SNA
Even though the flight attendant joked to passengers on takeoff, "Shhh, you're flying over rich people," keeping down the noise is serious business at John Wayne Orange County Airport. And, private and chartered business jets have to abide by the same rules that commercial airliners do.
John Wayne Airport is one of the busiest and most noise sensitive airports in the United States.
It is surrounded by residential areas in the center of Orange County, the sixth largest county in the United States and the third largest in California with more than three million residents.
To control the noise level, the airport and the county have some of the most stringent rules in the country.
The General Aviation Noise Ordinance regulates the hours of operation and the maximum permitted noise levels associated of general aviation operations. Pilots are asked to get in and out of the airport in the quietest way that keeps them and their passengers safe. The airport knows that pilots are the key to their success in this area.
Because of the stringent noise rules, aircraft that cannot meet the noise limitations are not allowed at John Wayne Airport. Prohibited aircraft are not permitted to land, tie down, take off or be based at SNA, except in an emergency.
Did you know?
Here's some Orange County trivia:
In 1935, Howard Hughes staged his world speed record-setting flight from Orange County, which was then called the Eddie Martin Airport. Eddie Martin operated a flying school on leased land that would eventually become John Wayne Airport.

You might know Anaheim as the location of Disneyland or the childhood home of Gwen Stefani or even the location of Leonard and Sheldon's apartment on the "Big Bang Theory" but its origins are somewhat less widely known. Seems that in 1857, a group of German immigrants established the town they named by combining the name of the Santa Ana River with the German word for home (heim): Anaheim. They were there to grow grapes and make wine. In fact, for decades, Anaheim was the largest wine-producing region in California. The Germans even built Anaheim Pier (near present-day Seal Beach) so they could ship their wine to San Francisco. However, their dreams went bust when a grape blight killed nearly all the vines in the area in the late 1800s.

Speaking of John Wayne, you can take a cruise on his 136-foot yacht, Wild Goose, from Newport Beach. The ship he loved is now owned by Hornblower Cruises and Events, which charters it out. The yacht is among the 200 boats listed on the National Register of Historic Places.

A sex symbol of the 1950s, Mamie Van Doren has lived in Newport Beach since 1966.

In the 1954 movie, "The Long, Long Trailer," the mobile home park in which Tacy and Nicky (Lucille Ball and Desi Arnaz) parked their trailer was located in a mobile home park in South Laguna that is no longer there. Part of the film was made on Hollywood backlots but some of it was set on Treasure Island (Laguna Beach). By the way, Treasure Island got its name when the movie based on Robert Louis Stevenson's classic novel was filmed there in 1934.

What car enthusiasts call the largest weekly and casual hot-rod gathering in the world has been held every Saturday in Huntington Beach since the 1980s.

Richard Milhous Nixon is the only U.S. President to have been born and buried in Orange County. He was born in Yorba Linda in 1913 in a small house his father built from a Sears catalog kit. He and his wife, Patricia, are buried at his library in Yorba Linda.
FBOs at John Wayne Airport, KSNA, SNA
Traveling frequently from John Wayne Airport?
If you fly frequently and you want have access to the finest private jets at any time, our jet card program is perfect for you. Our Jet Card allows you to fly anywhere, at any time and with any aircraft that fits your needs. Contact us for more information or read more about our Jet Card program.
Frequently Asked Questions
Do I have to stop for customs when I fly on a private jet?

Passengers on all international private charter flights will have to stop at customs. In certain countries, you may have to go through customs at a specific port of entry; for example, you must stop in Tahiti to perform customs checks en route to Bora Bora. You'll also need to stop at the first port of entry when entering the U.S. from Mexico.

How much rest does the crew need before they can depart again?

Crew members are required to have a 10-hour rest period within each 24-hour cycle. The maximum duty day is 14 hours and must be followed by a 10-hour rest period at their hotel. When scheduling a flight, operators usually account for 12 hours of rest instead of 10. These extra two hours allow the crew time to get to their hotel, rest for the required time, and return to the airport.

How long does a fuel stop for a private jet flight take?

The average fuel stop takes 45–60 minutes. To speed up fuel stops, the operator, or pilots may call ahead, so a fuel truck is waiting for the aircraft on arrival. For smaller jets, a fuel stop can take as little as 30 minutes.

Will my private jet charter use the same airport as a commercial airline?

No. When you charter a private jet, you generally fly into a private airport. However, you could access the same airports as a commercial airline if you request to do so or if there are no private airport options. However, using a large mainstream airport like Los Angeles International or London Heathrow is often a bad choice for private jets, as flying to a smaller regional private airport is much faster and often makes for a more luxurious experience.

Is the age of an aircraft a safety factor?

Aircraft age is not a safety factor. However, if the aircraft is older and hasn't been refurbished properly, it may cause flyers some inconvenience, such as overheating, faulty air conditioning, or faulty plumbing in the lavatory.

How much luggage am I allowed to bring on a private jet?

As a rule of thumb, each seat on a light or midsize jet equates to one passenger and one item of luggage. Each item of luggage is considered to be the standard 23 kilograms, or about 50 lbs. Large jets are designed for long-range trips, which typically involve longer stays, so you can carry more than one item of luggage per person.

Are there aircraft that are wheelchair accessible?

There are many aircraft that are wheelchair accessible. Most of them are large jets or above and have a straight aisle. If the jet has a zigzag aisle – like the Falcon 900 – it will be difficult to maneuver the wheelchair onboard the aircraft. You'll also need the right type of wheelchair; many motorized wheelchairs won't fit and can't be collapsed. If this is the case, you'll need a smaller, temporary wheelchair. Some aircraft operators have smaller wheelchairs that can be used. Please speak with your Paramount private jet expert to review your aircraft options.

Can I fly with large sums of cash?

Yes, you can. This is a common occurrence for many private jet clients. You can fly with up to $5 million in cash as long as you declare that cash when coming through customs. For domestic trips, there's no limit and no need to declare it.

Which private jets come with flight attendants?

In the United States, large jets and above are required to have flight attendants onboard; in Europe, flight attendants are used on midsize jets and above. Flight attendants require their own seats. Larger jets and above have a jump seat near the cockpit for the flight attendant to use, meaning the attendant generally stays out of the cabin.

Which airports offer ramp access, allowing the client to drive their car right up to their private jet?

Private jet clients can often have a limo drive them right up to the private jet, or even drive their own car to the plane. That said, different airports have different policies, and some may not offer ramp access. Please speak with your Paramount Aviation Advisor to review your options for a given trip.

Do private jets come with Wi-Fi?

Many private jets do have Wi-Fi, and it's increasingly available free of charge on U.S. domestic flights. On international flights, prices range from $3.00-$8.50 USD per megabyte used. This means that opening up social media sites that are rich in images and videos could quickly cost you $20 – and downloading a feature-length movie could cost thousands!

When is on-demand private jet charter better than buying a block of hours?

Private jet charter can be a lot cheaper than buying a block of hours for a one-way flight, as you can access floating fleets or an empty leg to reduce the cost. With a block of hours, the price covers a round trip. If you only fly one-way, you are effectively paying double.

What is a carbon-neutral flight?

Every aircraft burns jet fuel and emits a certain amount of carbon dioxide (CO2) into the atmosphere. This can be offset via one of several carbon offset programs that allow private jet clients to purchase a certain number of carbon credits to offset the emissions from their flights. A carbon-neutral flight is one that offsets the carbon emissions it uses via a formal process.

Can I have a flexible departure time for my private jet flight?

Yes, it is possible to have a flexible departure when flying privately. Operators typically offer a 30-minute to two-hour window, but you can request a longer window as long as it doesn't interfere with the maximum crew duty day or their next scheduled flight. Please confirm with your Paramount Aviation Advisor at the time of booking your jet.

When should I hire a Boeing Business Jet?

Boeing Business Jets (BBJs) have unique amenities that extend far beyond sheer size and are often equipped with 1-2 bedrooms and 2-3 bathrooms (one more of those bathrooms may even offer stand-up showers.) These airliner-based executive aircraft also feature tall or 'stand-up' cabins that are also longer and wider than more typical corporate aircraft.

How soon can I have a private jet ready from the time I call in the request?

Generally speaking, with as little as 4 hours of notice. However, we have had wheels up in as little as 32 minutes from the time our client called us to book the flight and had them in the air. It depends on a few factors, such as how long it takes for the pilots to arrive at the airport (generally, there is a 2-hour call-out time for the pilots), and whether the aircraft is ready to go at the airport with no repositioning needed. Our Jet Card members enjoy faster booking since they have funds on account and can confirm a flight with a simple email.

Can I access my luggage while in flight?

On most private jets, you will be able to access your luggage during the flight. That's because luggage and passengers are situated on the same level. This is in contrast to commercial airlines, where checked luggage is stored in a cargo hold. On large private jets, luggage is often stored in a compartment behind the lavatory, which means easy access to your bags.

When are private jet charter landing and takeoff slots applicable?

A landing or takeoff slot is simply a small window of time in which your aircraft is scheduled to fly in or out of the airport. You will need a landing and takeoff slot if you fly to a high-density airport in the United States or one that is hosting a special event with a significant number of aircraft arriving and departing. If you're flying internationally, you will need a landing and takeoff slot for all major European cities. Please check with your Paramount Aviation Advisor at the time of booking for a specific route.

What kind of in-flight catering is available on a private jet?

Other than the standard snacks and drinks, you can order local cuisine options for your catering on board. In short, anything that doesn't need to be cooked can be ordered; hot food must be precooked and then warmed on board.

Can I bring pets with me on private jet flights?

Of course! Just let us know in advance. The majority of the operators and aircraft owners allow pets onboard. In some cases, a small cleaning fee may apply. That said, there are specific requirements that must be met when traveling with your pet, including making sure that all documentation and vaccination records for your pet(s) are correct and up-to-date. Dogs and cats must also be at least eight weeks old and weaned when traveling within the U.S.
Would you like our assistance?
24/7 customer service is there for you.
From the blog
Fly To Munich For The Octoberfest Beer Festival

Regarded as being the world's largest folk festival, Germany's Octoberfest attracts seven million visitors from around the world. Held in the Bavarian city of Munich, Germany, the Octoberfest can trace its origins back to the marriage of Crown Prince Ludwig and Princess Therese of Saxe-Hildburghausen on October 10, 1810. The citizens of Munich were invited to attend celebrations to mark the royal event in a meadow located outside the city's main gate.

Visit London And Attend An NFL Game In October

The NFL returns to London in 2023 with three adrenaline-fuelled regular season games to be played in October. Great for American ex-pats living in the United Kingdom and for British fans of American football, the games also present an opportunity for the team's American-based fans to visit and explore one of the world's most vibrant and exciting cities.