Photo: Markburger83 via Wikimedia Commons.
Regarded as being the world's largest folk festival, Germany's Octoberfest attracts seven million visitors from around the world. Held in the Bavarian city of Munich, Germany, the Octoberfest can trace its origins back to the marriage of Crown Prince Ludwig and Princess Therese of Saxe-Hildburghausen on October 10, 1810. The citizens of Munich were invited to attend celebrations to mark the royal event in a meadow located outside the city's main gate.
The two-and-a-half-week-long Octoberfest will begin on September 16, 2023, and finish on October 3, 2023. Besides thousands of liters of beer and locals dressed in national costumes, there will be parades, fairground rides, music, and traditional Bavarian food.
The 85-acre Octoberfest site will welcome 474 businesses, including market traders, caterers, and fairground operators. Visitors to Octoberfest are invited to taste newly brewed Wiesn beers from six traditional Muchich breweries, which are:
Augustiner

Hacker-Pschorr

Löwenbräu

Paulaner

Spaten

Staatliches Hofbräuhaus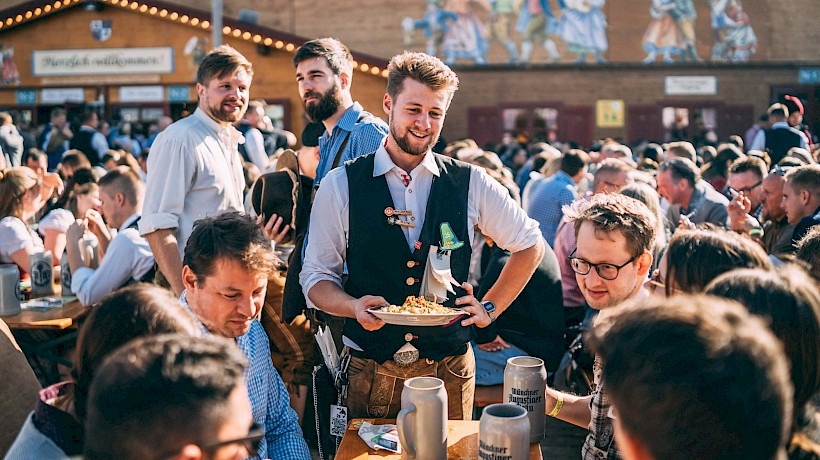 Photo: oktoberfest.de
Food offerings include grilled meats that include chicken, ducks, geese, veal, ox, pork, and veal knuckles. You will also find various sausages, including the popular Schweinswürstl. There are also cold platters and plenty of options for vegetarians and vegans.
Beer tent operators will each have an online portal where you can purchase reservations or sell back reservations for the original price you paid. Reservations can be made at Oktoberfest-Booking.com.
How to get to Munich
Visitors from the United States have many commercial options, with German national flag carrier Lufthansa, American Airlines, Delta Air Lines, and United Airlines all offering non-stop flights to Munich International Airport (MUC). Lufthansa flies direct to Munich from the following American cities:
New York

Philadelphia

Las Vegas

Chicago

Charlotte

San Diego

San Francisco

Los Angeles

Washington D.C.
United Airlines flies direct and codeshares with Lufthansa from the following cities:
Denver

Chicago

Boston

Houston

New York

Delta Air Lines

Atlanta

Detroit

San Francisco
Delta Air Lines flights non-stop to Munich from Atlanta, while American Airlines flies non-stop to Munich from Charlotte, North Carolina.
Charter a private jet for Octoberfest
Rather than flying commercially, have you considered chartering a private jet? Hiring a private plane eliminates the long lines and all the hassle of traveling through a busy airport. It also allows you to fly out of an airport closer to home and decide when you want to leave and return. Paramount Business Jets is a world leader in private jet charter and can arrange a plane to suit your needs.
Private jets flying from the United States to Munich have a choice of two airports Munich International Airport (MUC) or Munich Oberpfaffenhn Airport (OBF). Located 18 miles from the city center, MUC is the region's main airport handling commercial and private aviation. MUC has three dedicated private jet FOBs catering to VIP passengers 24 hours daily.
Located a similar distance to MUC but southwest of the city, Munich Oberpfaffenhn Airport (OBF) is a dedicated private jet airport with two FOBs. Constructed by Dornier in the 1930s, OBF served as a repair base for Dornier Do-17, Do 215, and Do 217 bombers during the war. On the night of March 18, 1944, OBF was targeted by the United States 8th Air Force. Taking part in the Munich raid were 136 B-17 flying fortress. Following the Allied victory in May 1945, the American Army Air Force occupied OBF and used it as a maintenance facility for Douglas C-47 Skytrains. OBF also played a significant role during the 1948-1949 Berlin Airlift.
Munich Oberpfaffenhofen Airport (OBF) caters exclusively to private jets
Photo: Oberpfaffenhofen Airport
Today Oberpfaffenhofen Airport (OBF) is the airport of choice for private jet customers thanks to its excellent customer service and specially equipped VIP lounges. Both FOBs at OBF offer the following services:
Two dedicated private jet terminals

Speedy check-in, security, and passport control

Limousine or helicopter between OBF and Munich

VIP lounges and conference rooms

Catering

WiFi

Hotel reservations

Crew lounge

Aircraft cleaning Aircraft maintenance

Aircraft refueling

Hangaring
No matter which airport you choose to use, Munich's Octoberfest is something you should experience at least once in your life. For more information about hiring a private jet, call +1-877-727-2538 (24/7) or visit paramountbusinessjets.com.