Services
VIP Concierge Services
No matter where you travel, Paramount Business Jets is committed to the success of your business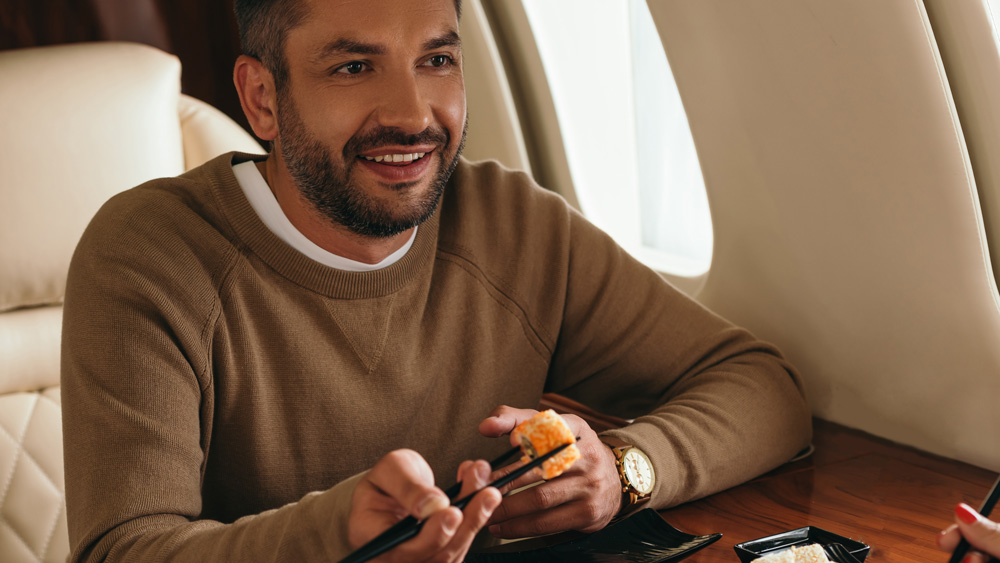 Get a Charter Quote on Vip Concierge
Extended VIP Concierge Services
No matter where you travel and for what purpose, Paramount Business Jets is committed to your comfort and to the success of your trip. We will, therefore, proudly provide you with the highest level of personalized care and service, offering a range of private concierge services for your private jet charter travel.
Our service professionals are always there for you, dedicated to making your trip more enjoyable, comfortable, and productive. They will work closely with you to learn about your personal travel requirements, be it gourmet meals onboard your private jet, transportation, hotel arrangements, or specialized security services.
Luxury Ground Transportation Service
At PBJ we understand that your travel needs extend well beyond the airport, and we are happy to provide all of our customers with a wide range of travel solutions, customized for their itinerary.
Whether you require ground transportation to and from the hotel or a pick-up and drop-off at nearby airports, PBJ has the resources and experience to meet and exceed all of your travel requirements.
The private transportation solutions we offer include an extensive range of luxury sedans, limousines, luxury SUVs and more. Whether traveling for business or pleasure, we want you to get the most out of your trip and have a professional chauffeur driver get you where you need, including right up to the ramp where your aircraft is waiting (where possible), in a vehicle that gives you the comfort you need.
Learn more about our ground transportation options.
Gourmet Private Jet Catering
Elegant, sophisticated, innovative, and distinctive. At PBJ, we take pride in offering our clients the very best of gourmet jet in-flight catering. Should you request our private jet catering prior to your flight, a customized in-flight catering menu will be sent to you. Our air gourmet menu includes world-class haute cuisine meals, hand-made pastries, to exquisite wines and more.
We encourage you to contact us if you have any special requests for dining options. We will be happy to cater to all your gourmet in-flight catering needs, so rest assured that even if you have very specific requirements, we will go out of our way to make sure everything you need gets onboard for your flight.
When booking your flight please be sure to specify the following:
Meal requests and preferences – continental or hot breakfast; delicious boxed lunch or fine lunch; gourmet dinners or salads; snack trays, appetizers, or desserts; fine wines, champagnes, or premium liquor.

The food service facilities you would like your aircraft to be equipped with – a refreshment center with snacks and beverages; a full kitchen with a microwave or oven.

Dietary restrictions and allergies.
Learn more about our gourmet in-flight catering options.
Luxury Hotels and Resorts
At PBJ, we appreciate the finest level of hospitality. Therefore, we invite you to indulge yourself in a lifestyle of luxury at one of our hand-picked, 5-star hotels and the unparalleled comfort they offer.
Our portfolio features luxury hotels, resort hotels, as well as world-renowned stately hotels, offering all the possibilities for family getaways, romantic escapades, and business meetings. Whether you are seeking accommodation for business, pleasure or both, our collection of partners is guaranteed to have the perfect solution for you.
Other Concierge Services we Offer via Collaboration with FBOs
Board to Board service*
At certain airports, we offer a Board to Board service for customers who need to catch a commercial flight and want to avoid the check-in process. Thanks to that, PBJ private jet charter passengers who are travelling further with commercial airlines can enjoy the convenience of getting on board without having to go through the check-in.
Special Occasions*
If you travel for an important event, we will assist with your wishes as to how you would like to celebrate. Whether it is a corporate event, anniversary, birthday, bachelor and bachelorette party, getaway, bridal shower, or a honeymoon, we will provide the right package for your special day.
In cooperation with the right FBO, we will customize your aircraft, including custom catering, passengers' assistance, and decoration. PBJ will assist you in making your private jet experience as pleasant and unique as the special occasion you are celebrating.
*The private jet concierge services we provide through cooperation with the FBOs may vary on a case-by-case basis and depending on factors such as the location and time. Please contact us in advance to discuss the available options and arrange the details of your trip.